Program
Instruction for Poster Presenters
All speakers are required to register for participation in IWPPI.
Session Room
Main Lobby (1F) or Convention Hall Lobby (2F)
Poster Board
IWPPI organizing committee will supply a poster board of the following size.
Size:

Width 93.3cm x Height 180cm

The inside dimension:

Width 82.1cm x Height 174.6cm

Recommended posting area:

B1 size (Width 73cm x Height 112cm)

Poster Number:

Width 21cm x Height 10cm
Posters should be displayed on the boards using adhesive material distributed in the Poster Session area. No pushpins are permitted on the boards.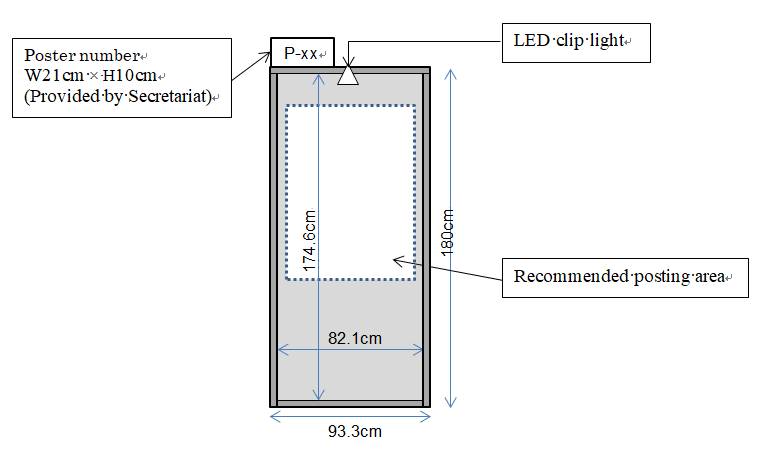 Poster Set-up Presentation Schedule
Poster Set-up:

Monday, Oct. 15, 11:00-13:00

Presentation:

Tuesday, Oct. 16, 16:20-18:00
Obligation time: 16:20-16:55 (odd number posters)
        17:10-17:45 (even number posters)

Poster Removal:

Wednesday, Oct. 17 13:00-17:00
During the assigned obligation time, authors have to remain in the vicinity of their poster board and answer questions. Please note that no electricity or audiovisual equipment will be supplied for poster presentations.
Authors are also responsible for setting up and removing their poster. The organizing committee is not responsible for the loss of the poster after the removal time. Please note that the remaining posters will be disposed.