Exhibition
IWPPI2018 Exhibition Application Guidelines
We are soliciting many groups and institutions to present their research results and new products at IWPPI2018 exhibition. If you wish to participate, please refer to this guidelines and fill out an application form, and send it to IWPPI2018 Secretariat by Aug. 31st. We are looking forward to your participation.
IWPPI2018 Exhibition Outline
Schedule
Period

October 15th (Mon) 13:00 ~ October 17th (Wed) 13:00
(Exhibition tour Oct. 15th 17:30~19:00)

Carry-in/Preparation

October 15th (Mon) 9:00~13:00

Removal/Carry-out

October 17th (Thu) 13:00~17:00
* For more details, IWPPI2018 Secretariat will notify.
Venue
Hotel Beniya
2-7-21 Kogan Dori, Suwa-City, Nagano Prefecture, 392-0027, Japan
TEL.+81-266-57-1111
Exhibition Fee
100,000 yen / booth. Fee includes a complete set of exhibition standards and a privilege of a free IWPPI2018 participation. We will send an invoice at a later date, so please pay accordingly.
How to apply
Please fill out an application form (Excel) which you can download from below and send it to IWPPI2018 Secretariat along with logo data by August 31st, 2018. Please indicate "IWPPI2018 exhibition application" in the subject of the e-mail.
Download Application Form here
Exhibition hall
Main Lobby (Ground floor) and Convention Hall Lobby (2nd floor).
Booth layout will be determined by lottery after confirming the number of exhibitors and will be announced.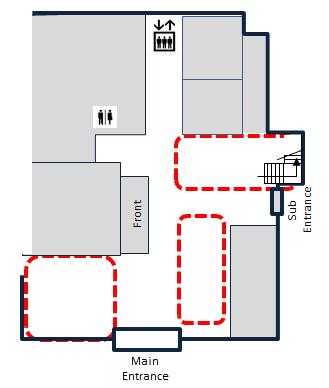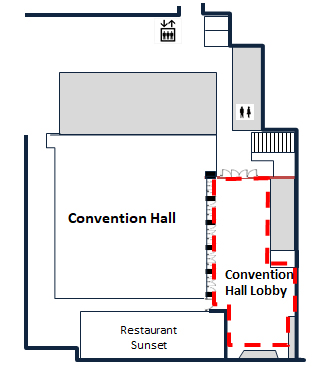 Exhibit Booth Specifications
Standard specification
Back Panel

W90cm X H180cm X 2 pieces to be connected

Display Table

W180cm X D60cm X H70cm with white cloth

Exhibitor Nameplate

W70cm X H20cm (Normal Font)

LED Clip light

1 piece

Power supply

100 V, MAX 200 W, single phase outlet
There is a space under the table which can be used for storage.
Poster area
Space for A1 vertical poster (W 59.4cm x H84.1cm) x 2 pieces or Space for A0 Horizontal poster (W118.9cm ☓ H84.1cm) x 1 piece
*Use adhesive tapes for back panel.
*Please prepare the posters by yourselves. Language should be prepared in English.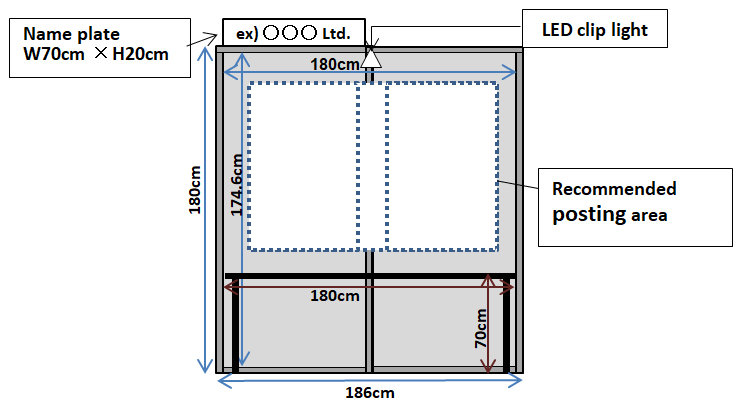 Additional Fixtures
If you need additional fixtures such as more power supply, catalog rack, chair, etc, please fill in the application form. Please note that additional fixtures may cost extra.
Exhibits Control
The exhibitors are requested to take sufficient measures of their own prevention against any accidents or troubles. The exhibitors are recommended to obtain the correct and proper insurance covered against all risks arising from any losses.
Travel and Accommodation expenses
Travel expenses and accommodation expenses of exhibitors are to be borne by each person. You can make a reservation from accommodation page of IWPPI2018.
[Application / Inquiries]
IWPPI 2018 Secretariat: iwppi@kpri.keio.ac.jp